LKDN "Starfish" Donor Appreciation Award
Honoring Organ Donors
Transplant recipients have asked how they could express their appreciation for the selfless gift of life they've received. The LKDN "Starfish" Donor Appreciation Award was created to meet this need. The award is a hand blown glass Starfish, paper weight size at about 5 inches.
The Starfish is a symbol from a story, (which is included with the gift) where a young man takes starfish that have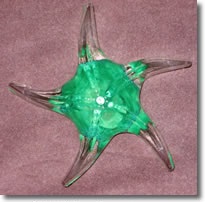 been stranded on the beach after low tide and throws them back into the ocean before they die. When the young man tells a stranger what he's doing, the stranger points out that there are miles of beach and asks how can the young man possibly make a difference saving only the few he encounters. The young man picks up a starfish, runs into the shallow waters and throws it beyond the breaking waves….then comments to the stranger "made a difference to that starfish…."
The story goes on to show the impact that one person can have and ends with the message: "There is no greater joy or greater reward than to make a fundamental difference in someone's life."
"Click Here" to read the whole Starfish Thrower story.
In addition to receiving the hand blown glass starfish, a printed text of the story, a personal note of thanks will be included. To honor an organ donor, please complete the following form, including the message you'd want conveyed on the personal note.
The Starfish is about 5"in diameter, each is one of a kind and hand blown. The starfish is a gift sent to your donor, or donor family member, when donating $49 or more to the LKDN. Please contact us if you are interested in ordering a Starfish Award for a donor.
The following are just a few quotes from those who have been honored with the LKDN "Starfish" Donor Appreciation Award.
"What a beautiful story, glass starfish and appreciation card…. I will display it somewhere prominent as a daily reminder to myself. A beautiful message!"
"Thank you for the Starfish. Donating was such a fulfilling experience and the Starfish serves as a constant reminder."
"The Starfish is brilliant…it's such a unique idea that it's refreshingly 'thankful'. Coupled with the story, it's absolutely fabulous."
"…it is a beautiful piece of art accompanied by a fitting parable."